I was so excited when our family was chosen to review the "Virtue Clues" from We Choose Virtues! I don't know about things at your house, but there are never an end to the opportunities to help my children learn how to use their virtues - like Patience, Contentment, Being Helpful, Forgiving and Obedient. There are plenty of opportunities for me to put into practice those same virtues - Patience probably being at the top of the list! We Choose Virtues was born out of Heather McMillan's desire to help children and their families learn and exhibit strong character in their lives. She recognized that without good character, many children will not make it far in their pursuits. She started creating cute catchprases to help children easily remember what was expected of them - and to help them instill lasting change in their life by using their virtues daily. We Choose Virtues has many tools for school and families that help parents and teachers instill this lasting change in their student's and children's lives.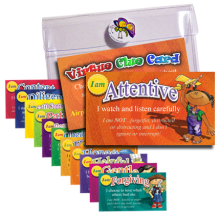 We received the
"Virtue Clues"($5.99)
which are a business card sized reminders of the different virtues taught by the We Choose Virtues Program. They are full color sturdy cards and packaged in a cute little plastic sleeve for storage. We also received the
Teacher's Handbook
,
Coloring Book
and
Family Character Assessment
sheet. We Choose Virtues offers packages for both the family and school settings with a faith-based option that includes scripture teaching along with the virtues. The program is meant for ages 4-18, however the drawings and coloring books are more appropriate for the younger set. My older daughter didn't particularly appreciate the cute pictures, but she did like the catchphrases. My younger children really enjoyed the cute illustrations and the easy to remember catchphrases!
The catchphrases are my favorite part of this program. They are short and sweet and easy to remember. When on of the children was not exhibiting a virtue that we wanted to see, it was easy to say "I find things that need to be done and I do them!" for the "I am Helpful" virtue. There are also reminders of what we are not "I am NOT...selfish, lazy or unwilling to serve, and I don't have to be asked!" The first part is such a positive reminder of what we want our children to be - very affirming, which I love. The second part is a nice way to remind our children what we do not want to see, but also in a positive way. I tend to be a "no" and "don't" parent, so having affirming words to remind my children on what our expectations are is wonderful! Instead of just saying "don't do that" I can quote the catchphrase that is so much more positive!
I have really enjoyed using these Virtue Clues, so much so that I am excited about purchasing the full size cards and the
Three Rules poster
- Obey, Be Kind and Be a Helper! This program with its colorful illustrations and cute catchphrases has been exactly what I have been looking for to help our family exhibit the virtues that are so important for growing good character!
Be sure to stop by the TOS Review Crew Blog to see what my Crewmates had to say about their experience with the Virtue Clues from We Choose Virtues!
Pin It
**Any products reviewed by me as a member of the TOS Homeschool Crew have been given to me free of charge in order for me to provide you with an honest review of the product and/or how we used the product within our family. I do not receive any other form of compensation for the reviews posted on this blog.